Eco-construction
An eco-responsible boat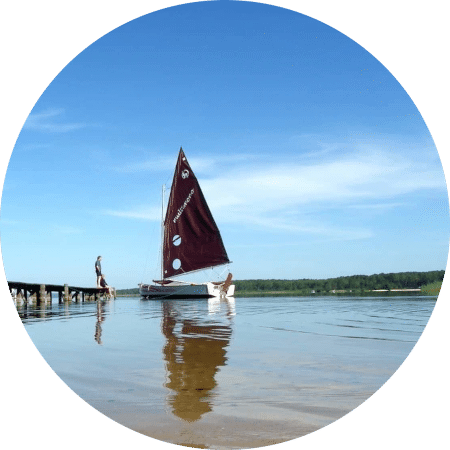 ​The Multimono is an environmentally friendly build designed for responsible consumers and involvement in the ECONAV network. Our wish since the design of this boat has been to lead the way to an eco-friendly build but also and above all to favour a dynamic of sharing and learning towards new cleaner and more respectful practices.
Reduced weight
An airplane wing design enables the weight of raw materials to be measurably reduced.
liquid ballast
Lead ballast replaced by liquid ballast of 4x 100 litres with automatic filling and emptying.
Plywood
Plywood is now sourced from 60% planted forests, managed to FSC standards, as in compliance with the CE standard.
Composite
100 kg only, 6 times less than a polyester boat.
Rigging
Aluminium tube rigging, untreated, brushed and not anodised, mechanically welded in Retz county near Pornic.
Unsinkability
Thanks to the waterproof compartments. Very high performance foam blocks (15kg per m3).
Cutting
Optimised digital cutting with one of our partners in South Brittany.
Kit Puzzle
The self building offers the possibility to reduce the size of the package so that we can send it around the world.
Rowing, sailing & sculling
Three emission-free propulsions! The petrol engine for very occasional use has much less environmental impact than a battery-powered system.
Sur remorque
Pas d'antifouling, pas de place de port à envisager. Mise à l'eau sans mouiller l'essieu, prolonge sa durée de vie.
Materials
​Cork and latex-based deck paint, hemp oil used instead of synthetic varnish.
Ever lasting!
Strong and easy to maintain at a low price, the Multimono  has 100 year lifespan.
Social, Educational, Shared !
​A small versatile boat fun to sail with multi-generational crews. Because the eco-friendly sailor's first duty is to transmit their passion…!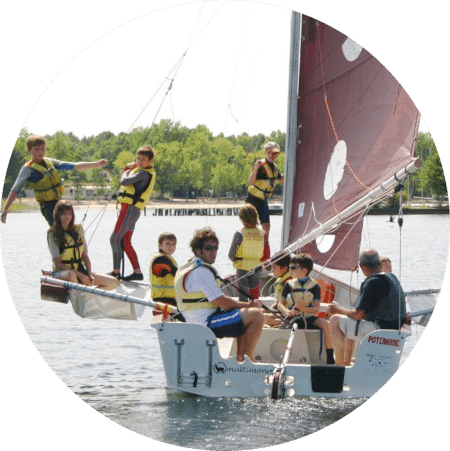 Sensitive
Raising the awareness of the wider public through the "Eco Nautic Challenge".
Alternative
​Fun, non competitive, not selective, based on the participation of all talents, teamwork, support and sharing.
Self-building
​On the spot, after the delivery in a kit which reduces volume and costs.
Versatile
sailing/rowing/motoring, allow to sail more often and develop the concept of a shared boat.
​
Inclusive
​Tailored for the beginner as well as for the champion, learning 10 trades, from construction to communication.