Éco-Nautic Challenge
The dream that brought the Multimono to life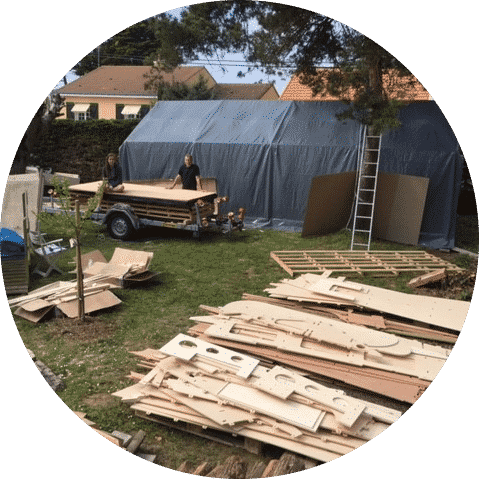 EcoNautic Challenge : Introduction
The EcoNautic Challenge is the dream gave birth to the Multimono concept 20 years ago, following the great 6 «Rencontres Scolaires de Bateaux Traditionnels» (School gathering of traditional boats) 1994-1999 in Pornic and La Turballe.
The idea behind this project is always to stage a multi-talent, diverse team, with people of all ages, gathered around a common pretext: building an amazing boat and getting proud. Participants will share their adventure on the social networks, photograph, film and exchange with other challenges, come up with a communication strategy to search for partnerships, and show the sponsors' colours in their sails, like our ocean racing heroes! The idea is to learn together, so that everyone can do what they enjoy the most: gluing, sanding, creating and producing images, writing, hull decorating, creating events with local nature associations to expand the permanent exhibition around the building yard and so on… There are many different "jobs" available when building such a masterpiece!                                                                                                                                                   
Jean Luc Van Den Heede,  our sponsor, actively helps us find the budget equivalent to the average Vendée Globe challenge to fund 150 hull kits! The Eco Nautic Challenge has many targets: daring to act, team work, living a great adventure, equipping towns and villages with their first school boat to train up new sailors! It is urgent to share and pass on our passion! Joining in with the great sailing events would be wonderful (Vendée Globe, Semaine du Golfe). Locally, it is easy to have a fleet of 3 school boats, crewed by 30 primary, middle or secondary school pupils, every 2 hours, with extra family-based activities with the partner sailing club. Of course, there are also regional and national events. 
You can also consult our Référentiel Pédagogie !
To start the EcoNautic Challenge adventure, do contact us. A responsible grown-up is required, gather a team and find a yard to build the plan.